Overview of System Backup
"A system backup is the process of backing up the operating system, files and system-specific useful/essential data. Backup is a process in which the state, files and data of a computer system are duplicated to be used as a backup or data substitute when the primary system data is corrupted, deleted or lost."
System backup helps in restoring a system to its last saved state along with all selected backup data.
Why do you need backups?
Hard drives do crash
Files can accidentally be deleted or become corrupt
Viruses can corrupt or delete files
You may upgrade to a new computer and need to move your files.
MiniTool ShadowMaker 2.0 provides a one-click system backup solution. It enables you to back up your system drive completely, including system partition, system reserved partition and EFI system partition. All data including applications, drivers, computer settings, system files and boot files will be imaged.
How to Back up System
Step 1. Launch MiniTool ShadowMaker. Then choose Local or Remote to get the main interface by clicking Connect.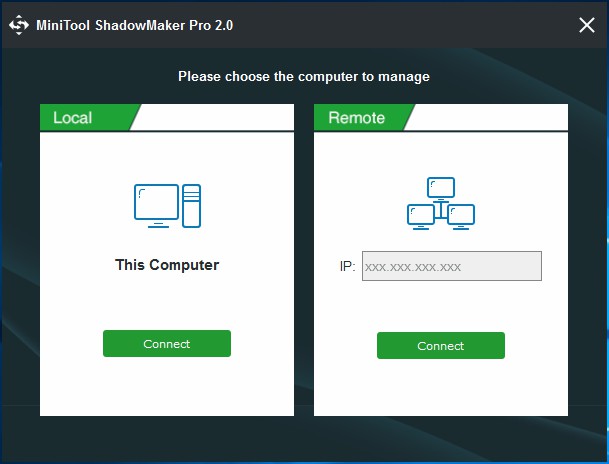 Step 2. MiniTool ShadowMaker is designed to back up Windows OS by default. In the Backup bar, you can see system required partitions are checked by default. Thus you only need to click Destination to choose a destination path to store the system image.
Step 3. Then in the pop-up window, you will see all partitions on your computer are displayed here. It is recommended to choose one partition of an external hard drive as the location.
In addition to saving the backup image to your computer, you can also choose Shared Folder as the destination location. Just click Add new button to enter the Path, User Name, and Password of your shared folder. Then click OKto go back to the interface of Backup.
Step 4. Click Back up Now to start the process immediately or choose Back up Later to delay the backup. You can start the delayed backup task in Manage page.
Tips
To set advanced parameters for the current backup task, click Options.
To specify a backup task to run on a regular basis, go to Schedule.
To manage disk space occupied by backup files, go to Backup Scheme.